Hey there my lovelies! This week I am doing a week of Subscription Box Posts! Subscription Boxes are some of my favorite services to try out. I look forward to them arriving and enjoy the surprise of what I might get. This month I used Instagram Ads to find different monthly services that I wanted to try out for you guys! I'll review the box and let you know what I think and If the box is worth the money or not. I will also be giving away one product from each box to one of you!
Today we are un-boxing the summer edition of the Fit Fab Fun Box! For $49.99 (every quarter) you get full size beauty, lifestyle, workout and home decor products! There are always exclusive offers and discount codes to get you 10$ off your boxes, so you only have to pay $39.99!
Get 15$ off your first box: https://share.fabfitfun.com/x/8Uk5S4
 I also have three starter boxes to giveaway so leave your email in the comments down below and i'll send you a link to get a free box! 
Let's get started!
Grace & Stella Rose Facial Spray
This rose facial spray by Grace & Stella retails for $25.95, and you get 8 fl oz in each bottle. This is a moisturizing facial spray, that's supposed to give you a midday pick me up. I'm not the biggest fan of the smell of roses, however this product has a very fresh light scent, without being overwhelming. I had never heard of this company before, but upon further inspection I found they have a pretty extensive line of skin care products!
Whish Exfoliating Foot Mask
This is product I was super excited to receive. This is by the company Whish, it retails for $32.00 and you get 2.5 fl oz in each tube. I live by the beach and walk barefoot a lot, this creates callus on the bottom of my feet. I need this product to help soothe and cleanse my skin. With natural ingredients like willow bark extract and pumpkin seed it exfoliates and polish's for your softest feet ever.
Generation Clay™ Ultra Violet Brightening Clay Mask
This clay mask is by the brand "Generation Clay" it retails for $39.00 and you get 4 fl oz in each tube. Here's what the company has to say about this product: Packed with hydrating desert lime, cleansing betonite clay, rejuvenating davidson plum, and aloe vera, the mask will revitalize dull, tired skin for a brighter complexion. Essentially you can use this two to three times a week, for softer smoother looking skin.
Invisibobble® Original Duo Pack
This pack of four Invisibobble hair ties retails for $16.00.  I am sure you have seen this product around, it's been a super popular item for a while now. These hair ties are supposed to have a super tight grip while still leaving your hair creaseless. You can pull them out throughout the day and wear your hair down without it looking like it was tied up all day.
Intelligent Nutrients Refining Micro Polish
This refining micro polish retails for $57.00, and you get 3.4 fl oz in each tube. I am a little confused about this product, is this supposed to replace your cleanser? The company website says to gently massage into the skin and rinse to reveal refined pores and a fresh, smooth face. It has plant jojoba beads, which are plant-based, biodegradable, and great for the skin!
Eyeko London Eye Do Black Liquid Eyeliner
This next product is a liquid eyeliner in black, made by the company "Eyeko". It retails for $22.00, and is also suppose to promote lash growth. Jet black and smudge proof this liquid eyeliner is supposed to apply smooth and create the perfect wing. I actually adore the packaging of this product, it has a very sleek look.
Jennifer Zeuner Star Double Necklace
This gorgeous necklace is by the brand "Jennifer Zeuner Jewlery" and retails for $50.00. It is a double chain, gold necklace with gold star details along the sides. I am giving away this beautiful necklace to one of you guys! Leave a comment down below telling me what your favorite thing about summer has been so far!
west elm Indigo Tie-Dye Bowls
West elm is one of my favorite brands, so I was very excited to receive this item. This is a set of three blue and white tie-dye bowls that retail for $39.00. West elm sells a lot of home decor items, and the quality of their pieces are amazing. I use these bowls to hold my jewelry and other trinkets on my bedside table and next to the sink.
ViX Paula Hermanny Lotus Towel
This was another product I was super excited to un-box. This is a lotus flower beach towel, that retails for $50.00. Like I mentioned earlier I live near the beach so I will get a ton of use out of this. It adds a little something special to your everyday beach adventures. This towel is a beautiful aqua teal color with brown gold details. Here's what it looks like when it is all unfolded: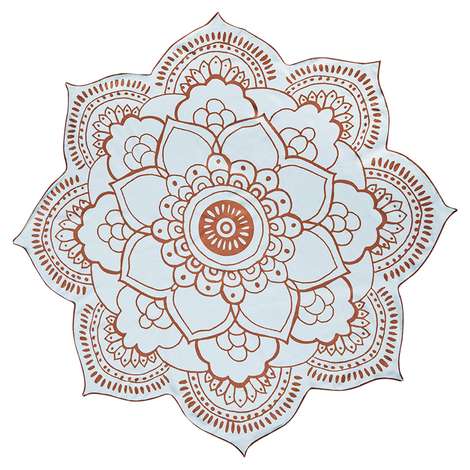 Overall price of this box: $330.95
Was this box worth it?: Absolutely, I have gotten quite a few Fit Fab Fun Boxes over the years and I have never been disappointed. If some of the items included in your box aren't your style or you know you won't use them, they make great gift items. For $39.99 this box was well worth the money!